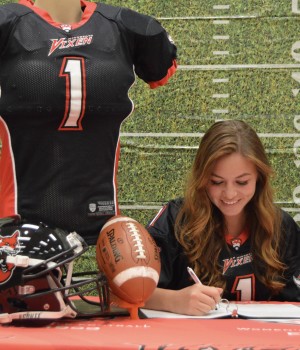 Hey!  My name is Cali Easley and I'm 22 years old.  This is my first year with the MN Vixen and I am very excited for this opportunity!
I was raised in Mound, Minnesota but I've been in Bloomington for about 3 years.  I attended Mound Westonka for the first half of my high school career and spent the second half at Mainstreet School of Performing Arts pursuing music.  Afterwards, I took a few years off from school but eventually attended Normandale Community College in Bloomington, MN.  I will receive an Associate's Degree in December 2017.
I grew up trying many different sports but my primary sport was definitely swimming.  I swam competitively year round for approximately 10 years until my freshman year of high school.  I made accomplishments along the way like winning state for my age group and making varsity letter my first year on the high school team.
As a kid, I remember I always wanted to play football.  I would occasionally play at recess with the boys in elementary/middle school or at my brother's football practices with other player's siblings.
When I heard about the Vixen tryout, I knew I had to go for it.  I realized that my younger self would have jumped at the opportunity.  Though it has come into my life a little later than I expected, I'm so happy to be a part of this team.  I'm absolutely ecstatic to see what 2018 brings!
---