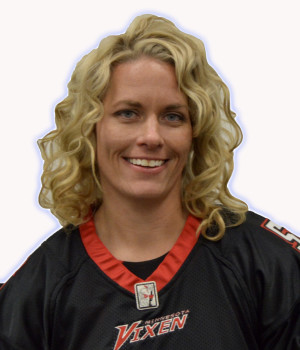 Entering her rookie year, Frandson is both honored and excited by the opportunity to be a part of the Vixen family. What she's most looking forward to – being part of a team again, playing a game that has as many intellectual appeals as physical, and rising to meet the challenges and goals set by the Vixen coaches and her teammates.
As a member of the Paynesville Varsity golf team from seventh grade through her senior year, Frandson received multiple awards including: 2-time MVP and Most Consistent Player of the Year. She received 3 All-conference honors and was a two-time State competitor. When she wasn't playing for her school's golf team, she competed on the Junior PGA Tour circuit, medaling in over 23 matches. Frandson also enjoys training for competitive runs through Twin Cities in Motion, Women's Health Magazine's Run 10 Feed 10, and she has also helped raise money for the Leukemia and Lymphoma Society training for a half marathon as a member of Team in Training. What Frandson brings to the football field that she learned out on the golf course and hitting the pavement for runs, is a keen mental focus and adaptability. Among other types of training Frandson has enjoyed – sweat-soaked sessions at Uppercut Boxing Gym in Minneapolis would rank high among them. And while Frandson herself has worked as a personal trainer, for the past year she's been experiencing the other side of it, getting her butt kicked in strength training sessions with LA Fitness Master Trainer and Bodybuilding Pro, Bryan Berkland. More recently, she has also taken to agility training and conditioning with Performance Coach Antawan Walker, in order to better prepare for her rookie year with the Vixen!
During the day, Frandson can be found with her lab-mix, Bowie (named after David), in the classrooms at the University of St. Thomas, where she is a Professor of English.
---
Mary is supported by:
John and Kathryn Frandson
Abby Anderson
Kara Schneeberger
Bonnie Hargesheimer