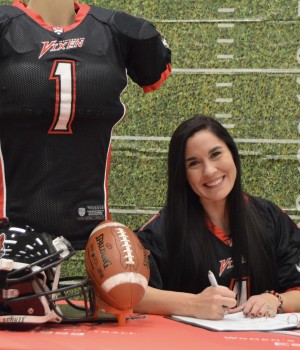 This is Nikki's (Pickle) first year as a Vixen. Ever since she found out about the team a few years ago from a friend on the team, she knew she wanted to be part of it. In High School, Nikki played Tennis, Fast-Pitch Softball and Track & Field. Her senior year of High School she became one of the co-Captains of the Tennis Team. In Nikki's free time, she loves to go to the gym to lift weights, spend time with her family and friends, be outdoors, and enjoy a nice cold brew Coffee.
She has very supportive family members and friends who always root her on and are excited to watch her play Football. Nikki is very personable, outgoing, energetic, and happy and is never a quitter.
Nikki is very honored and grateful to have the opportunity to be on this amazing team!
---