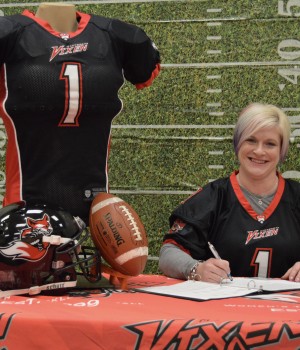 Hey there I'm Jaime, 2018 Vixen rookie, bodybuilder/powerlifting pharmacist. Never backing down from a challenge I'm beyond excited to be a part of this year's Vixen team, with this amazing inspiring group of young women.
I'm a pharmacist of 15 years and have a 22 year old daughter, Jordyn. Raised in Springfield, MN and residing in Owatonna.
Upon being asked to try out for the team I wasn't sure then decided, with the help of a few friends that this is just the next step in my progression of challenges. With 2 Tough Mudders in the books, it was time to step up the game and become a part of this Championship Vixen team. I'm embracing the challenge that this opportunity will bring this season and goes to prove that girls CAN do anything boys can do…. Only better! Let's do this Vixen!!!
Thank you in advance to all my family and friends for their continued support!
---